The end of June too, which means it's approximately the middle of the year and it's time to go over some releases that have come out in a decidedly "better than 2011" year. We're going to do things a little different and have quick micro-reviews of 10 albums or singles that were liking this twelfth year of the new millennium.
Shearwater - Immaculate from Animal Joy


Animal Joy is a near flawless set of art-rock songs fronted by one of the best vocalists around at the moment. Jonathan Meiburgs ambitious falsetto rounds the set of band talents including an impeccable sense of catchiness, and an unpretentiousness that is hard to find in indie music with this much depth and romanticism. It's rare that one good listen to an album can solidify it as an instant favorite not just for 2012 but for years to come. Immaculate is a concise and rousing introduction to the album's more
aggressive
side. You think the jangly guitars and bass groove are all well and good until that vocal melody. I've had it stuck in my head for months.
Shearwater - Immaculate
Here We Go Magic - Make Up Your Mind
from A Different Ship
Nigel Godrich jumps on board as producer on the third full length from Here We Go Magic, the most quirky band since the Talking Heads. He widdles the band down to their absolute essentials highlighting Luke Temple's impeccable songwriting, and giving the production a welcome polish. Make Up Your Mind is without a doubt the highlight of the album and a perfect introduction to Here We Go Magic's brand of too neurotic to be dance-y indie pop. The manic energy in that guitar riff is contagious, and don't even get me started on that chorus. You'll be singing it in your head the rest of the day.
Here We Go Magic - Make Up Your Mind
Exitmusic - Passage
from Passage
If you're looking for an alternative to Beach House's flavorless gossamer routine but still want your indie rock with that valium in a tank of post-punk paraniahs flare, look no further than Exitmusic's excellent debut album: Passage. Unlike many of their contemporaries, an indulgence in reverberated ambiance and atmosphere does not mean a loss of emotional connection and immediacy. The strange but beautiful vocal inflections of singer
Aleksa Palladino fill in the title track as it's
propelled by a sinister bass line picked into a chorus containing the most powerful vocal delivery I've heard in a long time. This is only the first track, and it sets the tone for an amazing debut.
Exitmusic - Passage
Starlight Girls - Gossip
from Starlight Girls EP
60s girl group, doo-wop, and surf rock influences have been making their rounds in the indie-rock sphere for a couple year with bands like Cults, Best Coast, etc. and it's always come off as a fun but annoyingly derivative gimmick. Somehow Starlight Girls have written a collection of songs with those same influences but sound like none of those bands you'd expect them to be touring with. It's the crunchy organ, and the decidedly less "sunshine pop" chord progression of Gossip that make the whole affair fun AND legit.
This EP is free on their bandcamp and is by far my favorite random find of the year.
The Starlight Girls - Gossip
Totally Enormous Extinct Dinosaurs - Trouble
from Trouble
Totally Enormous Extinct Dinosaurs obviously gets points for the name, but they get more points for being so enjoyable despite all of the elements of the music trying their hardest to keep me from liking it. This album sounds like it wanted so hard to be an early-2000s house record, but somewhere along the way got sidetracked by Beck, El Guincho, and the fractured textures of IDM. Frankly it's baffling how TEED isn't more popular with the dance crowd because it's the perfect light hearted summer dance album. The title track summarizes the highlights with it's hazy synths, frail vocals, and pulsing 4/4 Detroit beat.
Totally Enormous Extinct Dinosaurs - Trouble
AU - OJ
from Both Lights
Whether you like AU's third album Both Lights or you don't, It would likely be the only thing like it you'll hear this year. The music that classically trained pianist Luke Wyland writes can be described using lots of adjective but when it comes down to it we're hearing experimental rock, borrowing from math rock and Frank Zappa as much as The Polyphonic Spree and glitchy electronica. OJ is the fractured and frantic album highlight. There's no doubting that it's from the future when you hear the mastered playing of instruments not even invented yet. Both Lights is a rollercoaster ride through the mind of one of the most singular and underrated songwriters around.
AU - OJ
iamamiwhoami - Sever
from Kin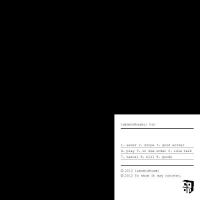 There are just some musicians who know melody, and how to write them to hit you right in the chest. Others have their singular talents: atmosphere, passion, technicality, storytelling, etc. Somehow iamamiwhoami has developed a bit of it all hanging out in the camp of The Knife, Planningtorock, and Bjork. Sever is the emotionally powerful opener of Kin. It's a perfect intro to the heady and dense pop songs that follow it. Where Fever Ray is the dark witch in the swamp, iamamiwhoami is her glossy transparent ice queen sister. You get that metaphor, right? Don't forget to check out her YouTube channel to see the music videos for every song on the album. They are all quite awesome.
iamamiwhoami - Sever
Savages - Husbands from Savages Single
Savages are four angry females playing a refreshing brand of
ethereal
post-punk. BTW, they never said they were angry, that's just my confident assumption. Riot Grrrls they are not, but I'm sure they could tell you all about them because Husbands incorporates everything you love about early post-punk with a fresh coat of black paint. Husbands is the only officially released track of the band who has existed for only a little over a year, but we're hoping it's an apt taste of things to come. Their debut double A side single
Flying to Berlin b/w Husbands
will be released digitally on May 28.
Savages - Husbands
Daniel Rossen - Silent Song
from Silent Hour / Golden Mile EP
Indie music darlings Grizzly Bear began as the solo project of singer-songwriter Ed Droste in 2004. Over the course of 4 releases and the addition of several new members, including Rossen, things have changed drastically. It takes only one listen of Silent Hour / Golden Mile to see who's project Grizzly Bear is now. This EP, and first solo release from Rossen delivers the hazy psychedlic folk of Veckatimist in stripped down unpretentious wrapping paper. In Silent Song, Rossen's mastery of songwriting so apparent; it's easy to see why Droste may have let go of the reins.
Daniel Rossen - Silent Song
First Aid Kit - Emmylou
from The Lion's Roar
"Leave it to two sisters from Sweden to show Nashville what they've been doing wrong for the past 30 years," read a YouTube comment below the music video for Emmylou, the second single from First Aid Kit's debut album. Maybe a tad harsh, but it's a comment that succinctly cuts into who and what First Aid Kit are. For any other song to name drop such revered artists like Emmylou Harris and Graham Parsons it would come off as brown nosing an entire genre, but what First Aid Kit do, golden age country Phd. with a minor in vocal harmonies, is so masterful it doesn't even cross your mind to be that cynical.
First Aid Kit - Emmylou
Other releases of note:
Perfume Genius - Dark Parts
from Put Your Back N 2 It
Rufus Wainwright - Montauk
from Out of the Game